Ex-Pakistan PM Benazir assassinated
Dec 28, 07 1:40am

malaysiakini.com
Pakistan opposition leader Benazir Bhutto was assassinated in a suicide attack today, just two months after the former premier returned from exile for a political comeback.Benazir, a two-time former prime minister, had just addressed a campaign rally for next month's parliamentary elections when a suicide bomber blew himself up outside the venue in Rawalpindi, killing her and at least 20 other people.
There were unconfirmed reports that the attacker had also opened fire on her with a weapon before the explosion. (Photo taken shortly before she was killed)
"It may have been pellets packed into the suicide bomber's vest that hit her," interior ministry spokesman Javed Cheema told AFP.
"She has been martyred," said party official Rehman Malik.
The Associated Press, citing Malik, reported that Benazir was shot in the neck and the chest before the gunman blew himself up.
Benazir was rushed to a hospital. But, at 6:16 pm Pakistan time, she was declared dead.
It was the second suicide attack at a Benazir event since she had returned from exile in October, aiming to contest the elections, and comes amid an unprecedented wave of violence in the country.
The deadliest terror attack in Pakistan's history targetted her homecoming rally just hours after her return, leaving 139 people dead.
After that attack, authorities repeatedly warned her they had information that Islamic militants were trying to kill her.
Government officials said President Pervez Musharraf had been privately told of her death.
Her pledge for democracy
The killing will deepen the political crisis in Pakistan, where Islamic militants have vowed to disrupt the vote and Musharraf's opponents – including Benazir – accused him of planning to rig the result.
There have been more than 40 suicide attacks in Pakistan this year that have left at least 770 people dead.
Benazir, educated at Oxford and Harvard, became the first female prime minister of a Muslim country when she took the helm in Pakistan in 1988. Her father, also a Pakistani prime minister, was also assassinated, in 1979.
Recalling how she stood at his grave, Benazir once wrote: "At that moment I pledged to myself that I would not rest until democracy had returned to Pakistan."
She had repeatedly accused Musharraf of being dictator and had been campaigning with fierce criticisms of what she said was his autocratic rule, vowing her Pakistan People's Party would deliver democracy.
Her killing was immediately condemned by the United States, which counts Pakistan as a pivotal ally in the US-led "war on terror".
Protests across the country

Meanwhile Reuters reported that Pakistan has put its paramilitary forces on "red alert" across the country after the assassination of Benazir sparked violent protests by her supporters.
Musharraf denounced what he called a terrorist attack and appealed for calm after angry backers of the slain former prime minister took to the streets across Pakistan, from the Himalayas to the southern coast.
The unrest was predictably fiercest in her native Sindh province and its capital, Karachi.
"Police in Sindh have been put on red alert," said a senior police official. "We have increased deployment and are patrolling in all the towns and cities, as there is trouble almost everywhere."
Reports said security was deteriorating in Karachi, where thousands poured on to the streets to protest. At least three banks, a government office and a post office were set on fire, a witness said.
Tyres were set on fire on many roads, and shooting and stone-throwing was reported in many places. Most shops and markets in the city shut down.
Terkini dari Kuantan setakat ini, walaupun air sudah agak surut, mangsa banjir Kg Ubai baru, 30 keluarga, Kg Semangat 85 keluarga, Cerok Paloh 58 keluarga akan kekal berada di pusat pemindahan mangsa banjir sehingga 29/12 nanti. Sekiranya fenomena air pasang tidak berlaku, mereka akan pulang ke rumah masing-masing. Kami amat memerlukan sukarelawan yang bersedia membantu dari 29hb Disember 2007 hingga 1 Januari 2008, dalam operasi membersih rumah mangsa banji. Bantuan dana mangsa banjir dan peralatan water jet juga sangat diperlukan. Pusat Khidmat KeADILan Kuantan kini sedang membina daftar keluarga yang memohon bantuan. Bilangan mereka agak ramai. Adalah diharapkan agar para pembaca dapat sama-sama membantu dalam operasi membantu sebaik mungkin mangsa-mangsa banjir yang terlibat.
Sila layari juga:
justice4allkuantan.wordpress.com
Polis telah mencerobohi rumah seorang sahabat (lelaki) yang tinggal di Kuantan. Mereka telah memasuki rumah beliau dengan memecahkan pintu hadapan rumah.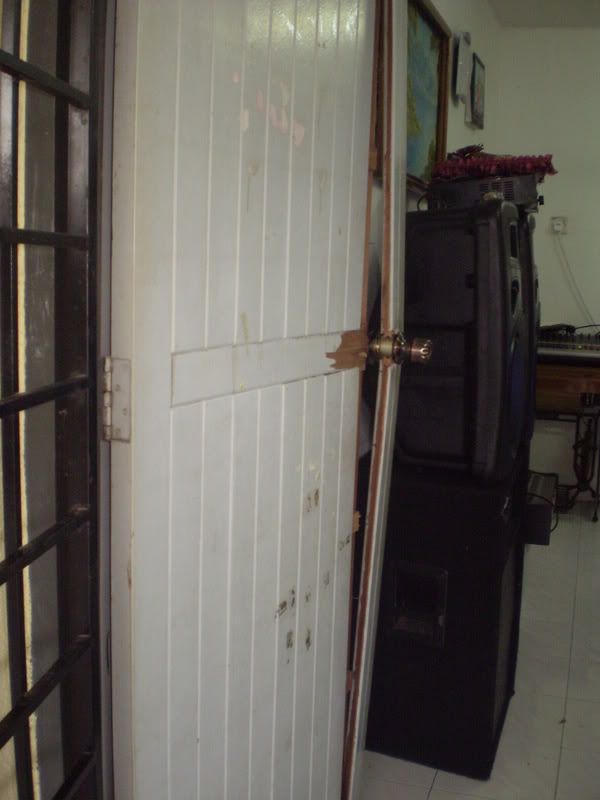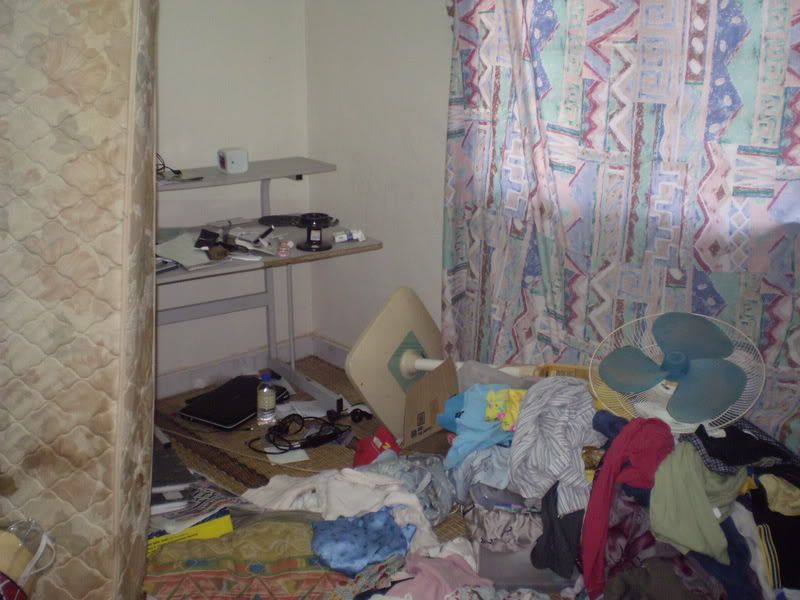 Waktu itu sahabat saya baru tersedar dari tidur bila mendengar bunyi kuat di tingkat bawah rumah. Polis telah menerpa beliau yang masih menuruni tangga rumah dan terus menggari tangan beliau. Sahabat saya itu telah dibogelkan dan kehormatan beliau dicabuli. Selain itu, beliau telah dikasari, ditampar dan dipaksa menjawab soalan-soalan yang pelik. Selepas beberapa waktu, beliau telah dibawa ke Ibu Pejabat Polis Kuantan dan disoalsiat lagi dan berada di Balai sehingga tenghari sebelum dibebaskan.
Polis Kuantan telah melanggar hak-hak asasi insan; menangkap tanpa sebarang dakwaan yang sah, tidak memiliki warrant atau izin memasuki premis yang dimiliki orang lain, menggeladah rumah tanpa warant, merosakkan harta-benda peralatan dan perabut, dan mencabuli kehormatan insan.
Rakyat tidak perlukan anggota-anggota polis yang sedemikian -yang menzalimi rakyat, bukan melindungi mereka.   Pihak berkuasa polis yang berkenaan sewajarnya mengenakan tindakan tata-tertib terhadap anggota polis yang melaksanakan tugas mereka tanpa risikan,penyelidikan yang saintifik dan objektif, dan menakut-nakutkan rakyat tanpa sebab yang munasabah.  Mereka telah menyalah gunakan kuasa yang diberikan kepda mereka.
Apabila tindakan tidak diatur oleh minda, terhasillah anggota-anggota polis yang cacat akhlak mereka, yang menganggap enteng pengabaian hak-hak asasi rakyat jelata.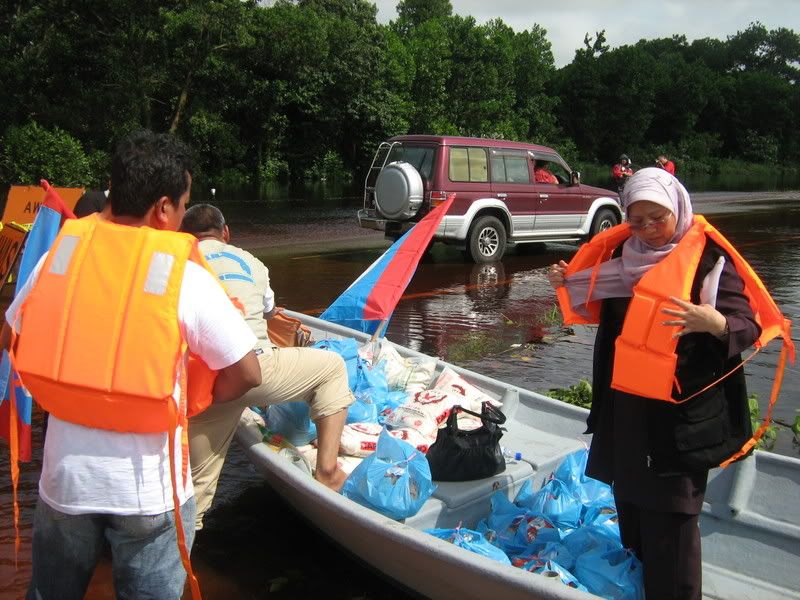 Hanya bot sebagai pengangkutan ke kawasan-kawasan yang diliputi banjir.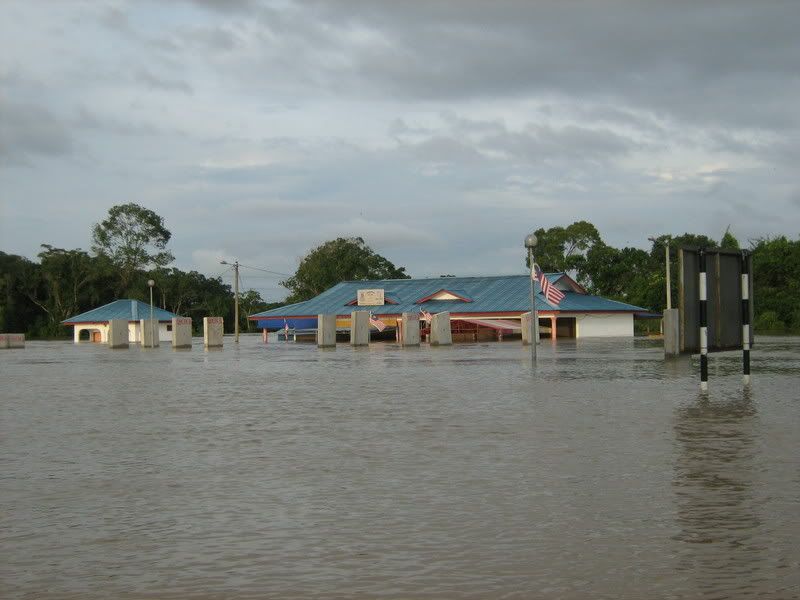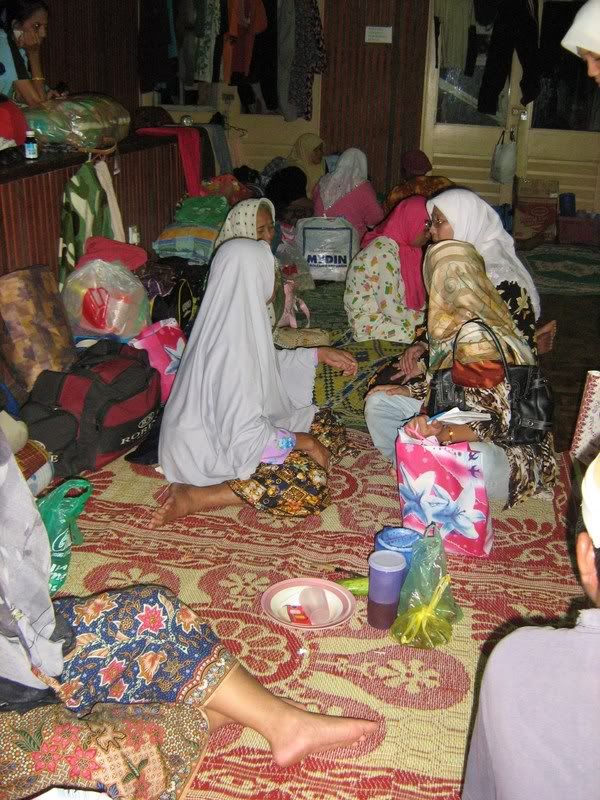 Menziarahi mangsa-mangsa banjir di salah sebuah pusat penempatan mangsa banjir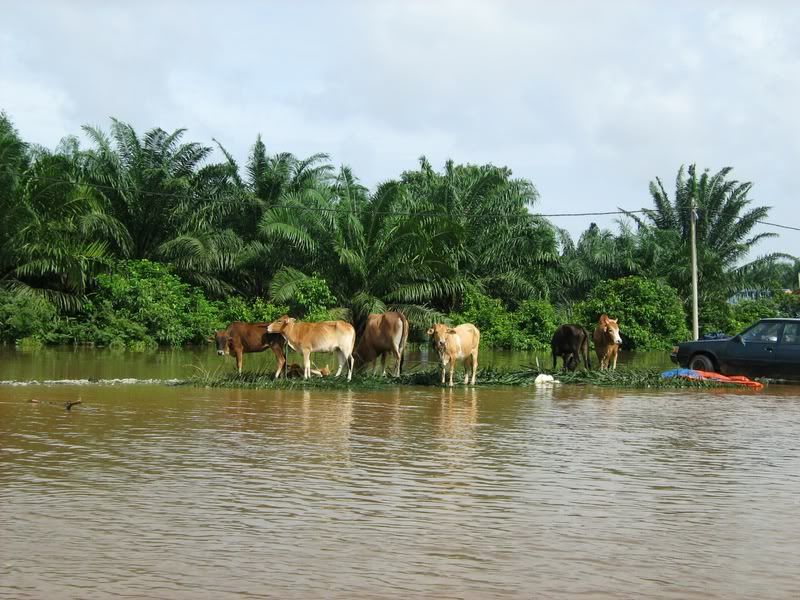 Kesudian Tengku Mahkota Pahang, Tengku Abdullah Sultan Ahmad Shah melawat mangsa-mangsa banjir di berbagai kawasan yang terlibat di Negeri Pahang, khususnya di Parlimen Kuantan, disanjung.
Baginda telah segera bersua rakyat yang ditimpa musibah, kehilangan seluruh harta-benda mereka dan bagi beberapa keluarga, kehilangan nyawa insan kesayangan mereka. Empati yang dipamerkan baginda dalam mengurus jenazah sebuah keluarga mangsa banjir di Pekan, amatlah menyentuh hati rakyat.
Baginda Tengku Mahkota menjadi contoh para wakil-wakil rakyat dalam menghayati derita rakyat yang sedang dirundung berbagai kesulitan akibat banjir teruk.
Dalam sesebuah krisis atau bencana, setiap insan memerlukan sokongan dan sentuhan selain dari bantuan material.   Saya sendiri telah melihat pada wajah-wajah mereka, mangsa-mangsa banjir teruk ini, terbayang jelas kesedihan yang sedang berlabuh di hati sanubari mereka.   Jika disentuh, akan mengalirlah air mata.   Sebahagian mereka mempunyai anak-anak kecil dan anak-anak yang akan menghadapi musim persekolahan tidak lama lagi.  Mereka mengenangkan masa depan yang belum tentu keadaannya.   Mereka memerlukan bantuan.
Rakyat keputusan keperluan asas kerana laluan telah disekat air bah.   Jalanraya yang menjadi kebiasaan laluan telah ditenggelami air.
Team KeADILan Bahagian Kuantan telah ke Penor, Ubai dan hari ini ke Cherok Paloh.  Rata-rata penduduk kampung masih memerlukan berbagai bantuan ketika ini dan selepas banjir surut nanti.
ANWAR IBRAHIM MENDEDAHKAN KLIP PENUH VIDEO LINGAM BERIKUTAN PENUBUHAN SURUHANJAYA DIRAJA
Setelah saya mendedahkan klip video Lingam kepada orang ramai kira-kira tiga bulan yang lalu, kerajaan kini telah mengumumkan keanggotaan dan terma rujukan Suruhanjaya DiRaja untuk menyiasat rasuah kehakiman.
Pada mulanya, kerajaan tidak mengendahkan isu ini tetapi kemudiannya hanya bersetuju membentuk panel tanpa bidang kuasa jelas. Justeru itu, keputusan menubuhkan Suruhanjaya Di-Raja kami anggap sebagai langkah positif untuk mengembalikan integriti kehakiman Negara. Kami mengucapkan tahniah kepada ribuan rakyat Malaysia yang telah menuntut reformasi kehakiman.
Malangnya, terma rujukan Suruhanjaya DiRaja ini tidak memenuhi bidangkuasa yang sewajarnya untuk memulakan siasatan menyeluruh terhadap krisis yang dihadapi institusi kehakiman, sebagaimana yang dituntut Majlis Peguam, badan-badan bukan kerajaan dan lain-lain pertubuhan masyarakat. Kewujudan video ini merupakan bukti bahawa krisis ini cukup mendalam dan telah melibatkan peringkat tertinggi institusi kehakiman. Kami kesal bahawa Suruhanjaya ini tidak diberikan bidangkuasa yang secukupnya untuk menyelesaikan masalah yang telah ditimbulkan oleh video ini.
Penglibatan Tan Sri Haidar dan Tan Sri Steve Shim sebagai pesuruhjaya juga menimbulkan beberapa persoalan. Suruhanjaya DiRaja telah dipertanggungjawabkan untuk menyiasat semua perkara berkaitan dengan nama-nama yang disebut di dalam video ini, termasuk saya, yang dirujuk sebagai "Kes Anwar" di dalam video tersebut. Walaubagaimanapun, saya perlu menarik perhatian disini bahawa Tan Sri Haidar dan Tan Sri Steve Shim adalah antara hakim yang mendengar kes saya di Mahkamah Persekutuan. Di dalam perkara ini, kami berharap mereka bertindak waras bagi mengenepikan sebarang tanggapan negatif yang mungkin bersangkit di dalam penyiasatan Suruhanjaya DiRaja.
Namun demikian, kami masih komited untuk memberikan kerjasama penuh dengan Suruhanjaya DiRaja dengan harapan bahawa anggotanya mempunyai keberanian melaksanakan amanah mereka dengan jujur dan ikhlas. Rasuah, muslihat perlantikan hakim dan ketidakadilan yang dilaksanakan di dalam penghakiman adalah masalah serius yang perlu ditangani.
Untuk memenuhi janji saya sebelum ini, saya dengan ini memberikan klip penuh video tersebut selama 14 minit dan akan memberikan kerjasama penuh kepada Suruhanjaya DiRaja. Video tersebut boleh ditonton di:
ANWAR IBRAHIM
William & saya bersama pengunjung di sebuah restoran; mengedar maklumat untuk tatapan mereka. Kelihatan seorang lelaki tua berbangsa Cina mengadu kepada William bahawa namanya tidak tersenarai dalam daftar pengundi.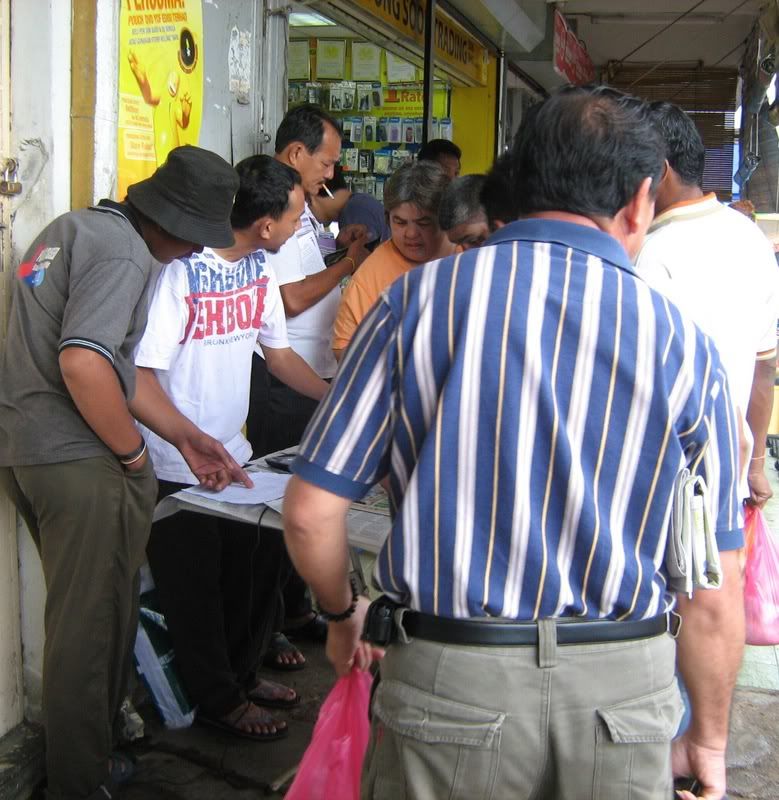 Para pengundi mengunjungi kaunter semakan daftar ahli berhampiran sebuah pasar pagi di Kuantan.
Majlis tersebut telah berlangsung pada 15hb Disember lalu, flag down oleh Saudara Azmin Ali, Pengarah Pilihanraya Malaysia Parti Keadilan Rakyat.
Majlis telah dihadiri oleh lebih 50 wakil-wakil JDM daripada kedua-dua jentera parti, KeADILan dan PAS dari N14 DUN Teruntum, N15 DUN Tanjung Lumpur dan N15 DUN Inderapura. Ia telah diadakan di Pejabat Parti Keadilan Bahagian Kuantan di Jalan Beserah, bandar Kuantan.
Turut hadir dan memberi ucapan ialah Tuan Syed Rahman b Syed Hussein, Ketua Penerangan PAS Pahang, merangkap Setiausaha PAS Kawasan Kuantan, Saudara Zakaria, Ketua Perhubungan KeADILan Negeri Pahang dan saya sendiri.
Jentera BA Bahagian Kuantan akan menghadapi pilihanraya ke-12 dengan tersusun dan disertai oleh para sukarelawan dari kalangan rakyat yang prihatin. Ia juga melambangkan kerjasama erat yang diperlukan bagi menjamin kejayaan dalam segala perancangan berkaitan pilihanraya umum akan datang dan menangkis sebarang propaganda BN.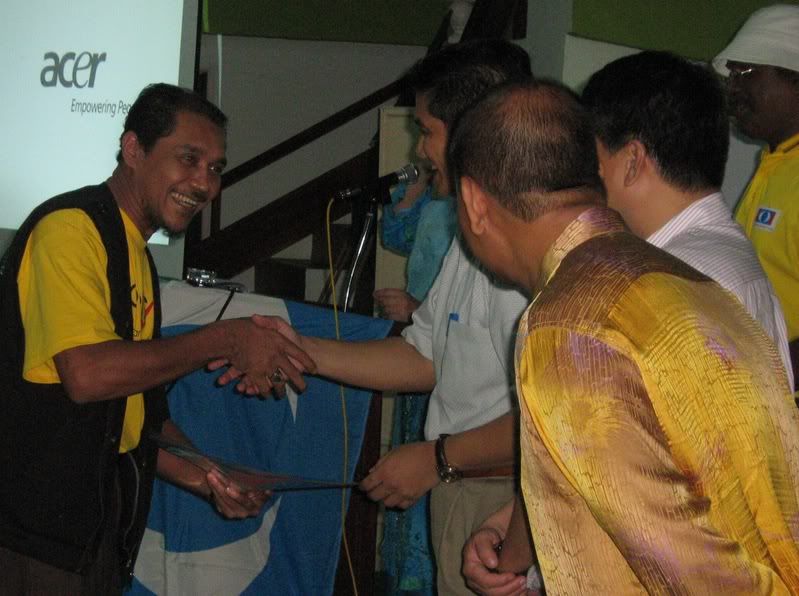 Syed Rahman, menerima watikah perlantikan bagi Jentera Inderapura daripada Saudara Azmin Ali. Turut menyaksikan penyerahan tersebut ialah , Saudara Zakaria, Saudara William Leong dan Saudara Ram, Naib Ketua KeADILan Bahagian Kuantan, merangkap Timbalan Pengerusi Badan Perhubungan KeADILaan Pahang.
Wartawan tempatan telah meliputi pelancaran dan program-program susulan sepanjang aturcara pada 15 & 16 Disember 2007 lalu.
11 Disember 2007
Sebaik sahaja tiba di Lapangan Terbang Antarabangsa Kuala Lumpur pagi tadi saya telah ditahan oleh Pegawai Imigresen yang memaklumkan bahawa nama saya telah timbul dalam "senarai yang disyaki". Tiada penjelasan tambahan yang diberikan. Setelah itu paspot saya telah dikembalikan dan saya meninggalkan lapangan terbang.
Dengan menggunakan alasan keselamatan awam, dalam tiga hari kebelakangan ini pihak berkuasa telah meningkatkan tekanan terhadap rakyat Malaysia dan menahan pimpinan pembangkang serta badan bukan kerajaan.
Tindakan melampau ini petanda jelas kepimpinan Perdana Menteri Abdullah Badawi sampai ke penghunjungnya.
Di Malaysia, rasuah terus menular di kalangan pemimpin UMNO dan BN. Keyakinan orang ramai terhadap sistem kehakiman telah punah. Jenayah telah meningkat. Ekonomi semakin lesu dan media perdana kawalan UMNO-BN masih dikuasai kerajaan.
Rakyat Malaysia telah turun ke jalan untuk turut serta dalm perhimpunan aman untuk mendesak perubahan sistem pilihanraya. Dalam insiden terbaru, pejuang hak asasi telah ditangkap kerana ingin membiarkan kain rentang Hak Asasi Manusia terus berkibar di Dataran Merdeka. Kerajaan telah bertindak balas dengan menggunakan ancaman ISA untuk menakut-nakutkan pimpinan masyarakat.
ANWAR IBRAHIM
– FOR IMMEDIATE RELEASE —
December 11, 2007
Petaling Jaya, Malaysia — Earlier today upon arriving at the Kuala Lumpur International Airport I was stopped by Immigration officers who alerted me that my name has been added to a "suspect list."
The nature of this list, who is included on it, and why my name has been added to it, are questions for which no answer was given. I was held in the Immigration Office for a short period after which my passport was returned to me and I exited the airport.
Under the guise of preserving public safety, in the last three days the authorities have increased their repressive tactics against Malaysian citizens and arrested key opposition figures and civil rights leaders.
These repressive tactics are a sign that Prime Minister Abdullah Badawi's leadership of Malaysia has run its course. After announcing today that he wishes to be a career politician until the year 2020, it is apparent that on all counts his government been a complete failure.
In Malaysia, corruption continues to run rampant among the UMNO party.  The integrity of the judiciary has been shattered. Crime has risen dramatically. The economy is lagging and the mainstream media remains completely constrained and under government control.
People have taken to the streets in peaceful protest to call for change.  Most recently, advocates have been thrown in jail for asking for a Human Rights Flag remain prominent in the capital square. In response the government has resurrected the spectre of the ISA to intimidate and instill fear among civil rights leaders.
The truth is that every demonstration that has taken place in Malaysia in the last three months has been completely peaceful. The only violence to transpire has been perpetrated by police officers and army units firing tear gas and water canons at innocent civilians. Tear gas has even been used to intimidate the minority community in places of worship.
The government's strategy of repression will continually fail. The winds of democracy in Malaysia will prevail as more and more will take to the streets to remove this corrupt UMNO party from power.
ANWAR IBRAHIM
Lima orang peguam termasuk Sivarasah (Ahli Majlis Tertinggi Parti Keadilan Rakyat), Latheefah Koya (Angkatan Muda Parti Keadilan Rakyat),

& empat orang aktivis

ditahan IPD Polis KL kerana demo hak asasi pagi tadi.

Petang hari ini juga dua pemimpin BERSIH telah ditahan polis di tempat mereka berada; Tian Chua di Johor Bharu dan Mat Sabu di Ipoh.

—————————————————————————————————————————————————————

Human rights march: 5 lawyers arrested
Syed Jaymal Zahiid | Dec 9, 07 8:16amMalaysiakini.comhttp://www5.malaysiakini.com/news/75828
The police have arrested eight people, including five lawyers, forproceeding with a march to mark International Human Rights Dayfrom the Sogo department store to Central Market in Kuala Lumpurearly this morning.
The arrests came aftera failed attempt by the organisers of the

march to negotiate with

the police to allow them to finish

their march at their intended spot.

The 100-odd crowd was already halfway to their

destination when the police give

the marchers a 10-minute warning to disperse.

The organisers, who believed that they could complete

their march within the time limit,

wanted to press on. According to an

eyewitness, the police however cordoned off the area, moved in

and made the arrests even before the stipulated deadline expired.

Those arrested included five lawyers – N Surendran (right),

Latheefa Koya, R Sivarasa, Eric Paulsen and Amer Hamzah.

Others were Anthony Andu, Norazah Othman and an unidentified activist.

They were arrested near the Jalan Tun Perak LRT station and

were immediately taken to the Kuala Lumpur police headquarters.

The eight were arrested under the Police Act for illegal assembly,

said Dang Wangi's acting Superintendent Che Hamzah Che Ismail.

The remainder of the marchers dispersed following the arrests.

"Authorities seem to be upset by any visible signs of protest and

I think this is a problem with the country," said Sivarasa,

who is also a leader of PKR.

"They don't seem to be able to deal with peaceful

dissent," he told AFP before he was arrested.

Organiser Latheefa said that Malaysians needed to

continue to exercise their constitutional right to public assembly.

Willing to cooperate

Earlier today, at about 8am, the small group of about

100 gathered at the Sogo departmental store under the

watchful eyes of the police. There were however no signs of

the dreaded Federal Reserve Unit and their water cannon trucks.
The marchers had carried
banners that read "Lawyers for the
freedom of assembly" and
"Government that abuses
human rights is terrorist."
Eyewitnesses said that one
of the persons arrested was
dragged into
the waiting police truck and
the arrests were done despite
the marchers' willingness
to cooperate with the police.
This small group of marchers have undertaken this march after
the Bar Council had dropped its annual march in conjunction with
the International Human Rights Day celebration – which falls
on Dec 10 – due to pressure to obtain a police permit.
Yesterday the police had warned the public not to participate in
the march given that no permit had been issued for the gathering.
"As no permit has been issued for the gathering, those who take
part in it can be charged under Section 27(5) of the Police Act 1967
for participating in an illegal assembly,"
warned Che Hamzah in a Bernama report.
Upon the decision of the Bar Council to call off the march,
at least 15 lawyers decided to proceed with
the walk to make a statement that citizens
have a right to assemble peacefully and
without prior requirement of a police permit.
Venue changed
Two days ago, Surendran had said that
the march was purely initiated by a group
of concerned lawyers, adding that the
organisers will not be applying for a police permit.
"We think that applying for a permit is a
negation of our fundamental right to freedom
of assembly as enshrined in Article 10 of
the Federal Constitution," he had explained.
"We feel the (Bar Council) march was called of
due to undue pressure from the authorities. We want
to send a message that the people of Malaysia have
the right to a peaceful assembly," Surendran said.
Bar Council chairperson Ambiga Sreenevasan meanwhile
had explained that the decision to call off the march was made
after "anxious consideration to the present circumstances
that surround the event, particularly the interests of the public and the Malaysian Bar."
The Bar Council also moved
its "Festival of Rights" event today
to its own building located
near Central Market after police insisted
that organisers apply for
a permit to hold the event at Central Market.
In a related development,
Ambiga today expressed disappointed over
not being allowed to see the arrested people.
Ambiga said that the march
was peaceful and slammed the arrests as
"totally unnecessary and unfortunate."
"The Bar holds the view that requirement of police permit is unconstitutional,"
she told reporters.
Meanwhile the police continued to exert pressure on the Bar Council over
their 'Festival of Rights' by arresting the council's human rights committee
chairperson Edmund Bon, allegedly for preventing the authorities
from performing their duty.
Eyewitnesses said that Edmund was arrested at about 12.45pm for blocking
Kuala Lumpur City Hall (DBKL) officials from removing human rights banners
outside the Malaysian Bar building in Leboh Pasar Besar in Kuala Lumpur.
Immediate response
In an immediate response, PKR de facto leader
and ex-deputy premier
Anwar Ibrahim lambasted the authorities for using
the law "to subvert freedom
and to suppress the people's fundamental democratic
right to peaceful assembly".
"In the absence of any evidence that they planned to
jeopardise the public's safety,
their arrest represents nothing more than scare tactics
we have seen used in
the past by the Malaysian government as it prepares
to unleash the draconian
measures of the Internal Security Act," said Anwar
in a statement this afternoon.
"The individuals who have been detained today are
among the most patriotic
Malaysian citizens and many have dedicated their
life's work to upholding the rule of law."
Meanwhile, Penang-based social movement Aliran said
it deplored the
"thoughtless and mindless reaction" of the government
in cracking down on the march.
"We are appalled that even a small gathering
of marchers to a nearby
destination in an orderly manner without
obstructing the traffic or causing
any chaos to the public cannot be allowed
or tolerated by this oppressive
regime," said Aliran president P Ramakrishnan.
"If this little act of a democratic principle cannot be
exercised in a responsible
manner, can we pretend to be a democratic
country any longer? This state
abuse of our fundamental rights shames
the country and condemns
the leaders as hypocrites."
Ramakrishnan called on the government to
release those arrested,
whom he described as "brave Malaysians who
have been unjustifiably detained".
Saya telah mengendalikan beberapa kursus dalam siri pembangunan potensi diri di Kuantan.
Kursus-kursus yang dikendalikan adalah sumbangan saya kepada masyarakat setempat dalam bidang pembangunan potensi insan.
role play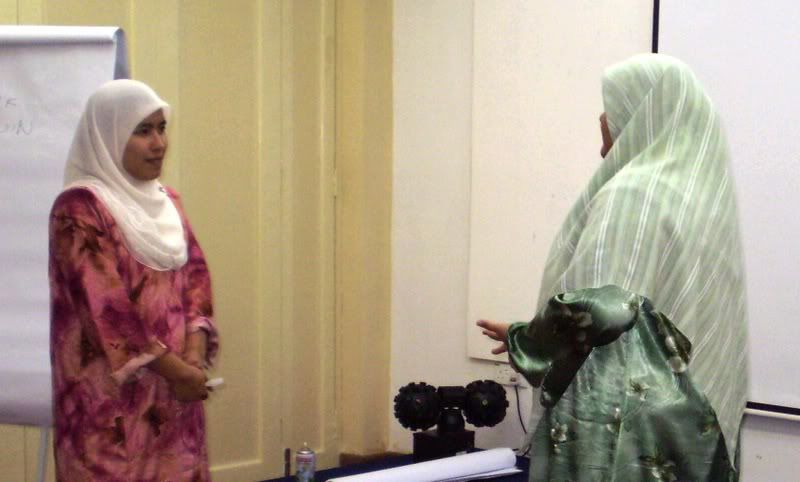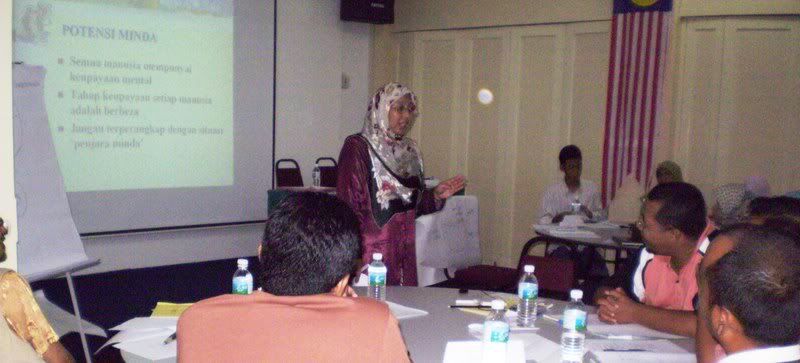 Ia telah diuruskendalikan oleh Leadership Forum Management – LFM (http://leadershipforum.wordpress.com) – a non-profit making entity.LFM ialah sebuah entiti yang komited dalam usaha-usaha penyelidikan dan pembangunan potensi individu, organisasi dan komuniti.Para peserta telah menunjukkan minat dan tahap tumpuan yang mendalam dalam siri kursus-kursus tersebut. Mereka (para peserta) terdiri daripada pelbagai latarbelakang dan oraganisasi dan telah memberikan maklum balas yang sangat baik terhadap content dan penyampaian kursus.

Kursus-kursus pembangunan potensi diri tersebut akan diadakan lagi pada masa-masa akan datang.